Middle School Football practice will start Monday, August 22nd and will take place weekdays from 3:30-5:30. Todd Spranger will be coaching this year. Todd has football experience as a player and a coach. He was a involved in this program in its infancy and we are extremely excited to have Todd back in our program and look forward to the middle school program having continued success! Just a reminder, all student athletes MUST have a current physical on file in the office BEFORE practicing. #gocougars #superiorcentral #buildyourlegacy #brickbybrick

Attention 6th-8th grade girls. If you are interested in playing basketball this fall, please meet in the high school gym at 6:00 p.m. on Tuesday, August 16th for an informational meeting with Coach McDonnald.

Hey Middle and High School Cougars! Our opening Varsity football game is all the way over in Cedarville/DeTour. Why drive all that way? Save some gas money and take the fan bus! If you are interested, please sign up by Wednesday, August 24th. Money ($10) will be due when you get on the bus. You'll also need money for your ticket and any concessions. Use the QR code or click
https://forms.gle/To6uBm9eASARTWi68
to get on the list! #gocougars #superiorcentral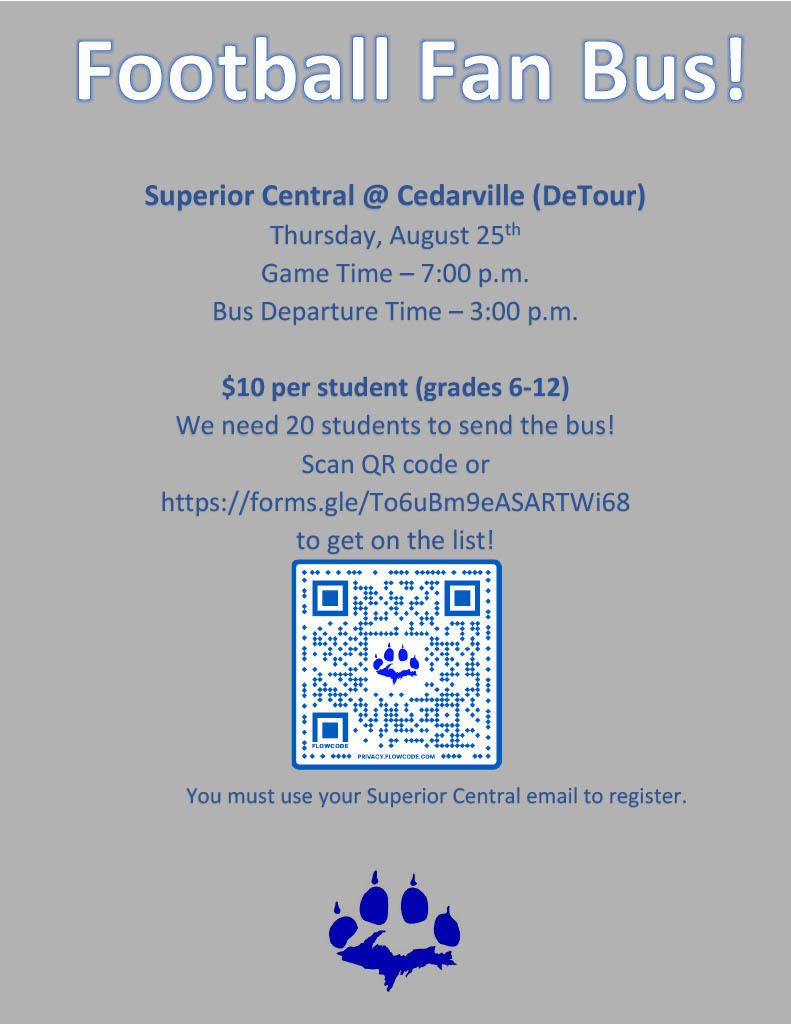 Good Morning, It is with a heavy heart that I send this message out this morning. As you may have heard, a Superior Central high school student passed away yesterday. We will be opening up the school tomorrow (Sunday, July 31st) from noon - 3:00 for grief counseling in the high school gym. All students and community members are welcome to attend. Sincerely, Bill Valima

Dear Superior Central Middle/High School Student/Athletes, On Friday, July 29th from 1 to 3p.m., Bay Care Medical Center will be providing FREE Sports Physicals at Superior Central in the high school gym. All 6th-12th grade athletes must have a current physical on file to participate in athletics (current is defined as after April 15th of the previous school year). Physical forms will be available at the school (PARENT SIGNATURE IS REQUIRED) or on the MHSAA website at
https://www.mhsaa.com/portals/0/Documents/health%20safety/physical2page.pdf

Good Morning Cougars, Due to snow and the forecast for snow and wind today. Superior Central will be closed today, Thursday, March 31st. Stay safe.

The 2022-23 Calendar was approved at the March Board of Education Meeting. The 1st day of school will be Tuesday, August 30, 2022.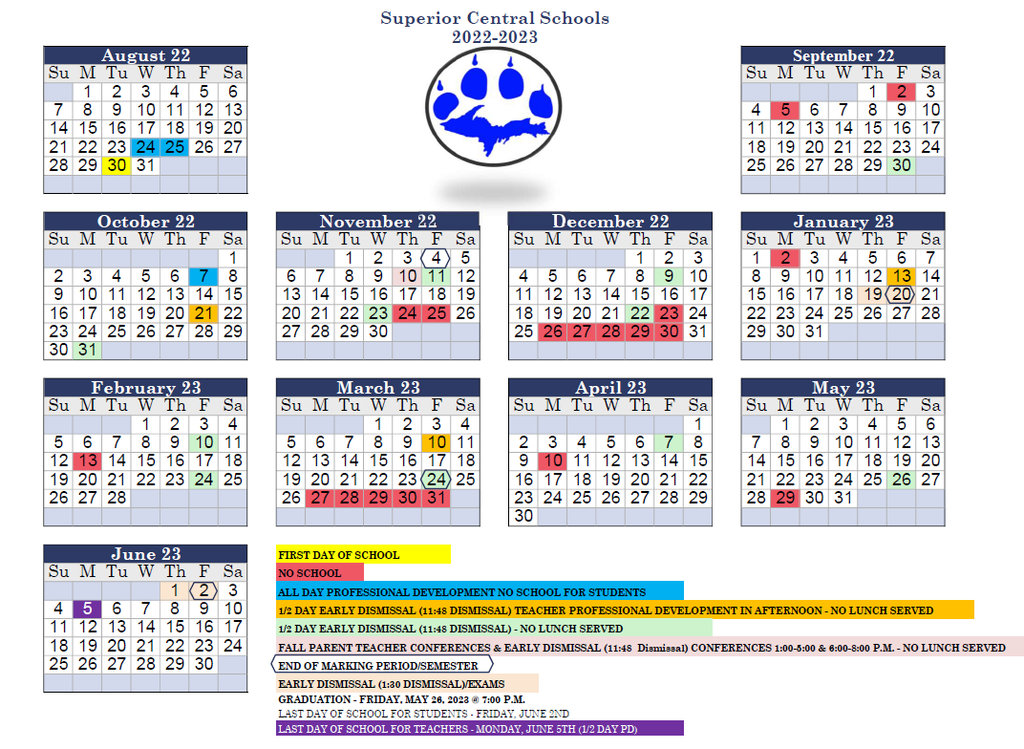 Good Morning Cougars, We're going to close today (3/23). Just took a ride around, the roads are a little icy and there's some rain coming down. The weather is forecasted to switch over to snow in the next hour or so and I'd rather keep us all safe. Enjoy the day. Mr. Valima

Good Evening Cougars, Reminder that tomorrow is an early dismissal (11:48) for Professional Development and there is no school on Monday. Enjoy the long weekend, Mr. Valima


Due to icy road conditions, the Superior Central vs. Munising boys' basketball game scheduled for today at 3:00 @ SC has been cancelled. Stay safe!


Due to snow and blowing snow, Superior Central will be closed tomorrow, Wednesday, February 23rd. Stay safe!

We have just been notified that due to the forecasted prolonged snow event our boys Varsity game at Norway and our girls JV and Varsity games at Norway have both been moved to Wednesday, Feb 23. The JV girls will play at 6:00 EST in Norway's Aux gym, Varsity boys will play at 6:00 EST in the hs gym and the Varsity girls will follow the Varsity boys game at about 7:30. Boys game with Big Bay de Noc for Wednesday has been cancelled.

Good Morning, Deb's bus (#6) is having mechanical issues. It will be running late. Sorry for the inconvenience.

The Boys Varsity Basketball game that was cancelled last Friday, has been rescheduled for Tuesday March 1st with a 7:00est tipoff! Go Cougars!

Tonight boys basketball game vs Forest Park has been cancelled. A make up date has not been determined at this time.

Middle and high school students, Tomorrow we will take 1st, 2nd, and 3rd hour exams. Monday will be 4th, 5th, and 6th hour exams.

Good Morning Cougars, Due to blowing snow and drifted side roads, Superior Central will be closed today, Thursday, January 20th. We will have a 1:30 dismissal tomorrow and on Monday to accommodate for exams. Stay safe.

Tonight's boys basketball game vs Republic Michigamme has been cancelled. Reschedule date to be determined.